As a homeowner, you want to make the most of the space that you have available. That could mean maximizing square footage in your interiors or filling up the yard with features that are attractive and make the area more comfortable. Home improvement projects are a popular hobby for people who are looking to level up the experience of their home while boosting resale value at the same time.
One of the most exciting ways to change the way you live in your home is by adding outdoor living space. Outdoor living spaces are the perfect "room" in the house for entertaining guests, relaxing on your own, and spending time with your family. Since they are limited only by the size of your yard and the existence of landscaping features, they are a great opportunity for you to be creative.
Designing a beautiful outdoor space is not easy. It takes planning, a decent budget depending on the scale, and careful installation of the various materials that will be used. To simplify the process and help you gain a vision of what the project will require, here is a guide to designing the perfect outdoor living space for your home.
Choose a Foundation
This outdoor room can be placed anywhere in your yard. It could be right off the back of the house so that it is attached to your home, or you could build it out in the middle of the yard. It all depends on how you want the space to function. The first step you will want to consider is what material to use for the floor of the space. There are plenty of options that will depend on personal taste. You could hire concrete pumping services for a uniform look and a firm foundation. Maybe you want your living space to be more of a deck and you will use wooden planks. You could even put down a gravel bed or pavers as the foundation of the area. Before you decide on the material, you will also need to consider the other elements of the space that you want to include to make sure that the flooring material fits with your vision.
Furnishing the Space
There is a reason why it is called an outdoor living space. It has to be comfortable enough for you, your family, or your guests to spend a decent amount of time there. For this reason, furnishing your space correctly is an important step. You could go rustic with wooden furniture like Adirondack chairs. Or you can reach for a modern look with couches or sectionals with metal or plastic frames that are designed for outdoor use. Adding cushions and pillows to these furniture pieces will allow for greater comfort and are easy to store inside if the weather turns bad. To encourage socialization, you can also add a table where people can either enjoy a meal or play a board game together.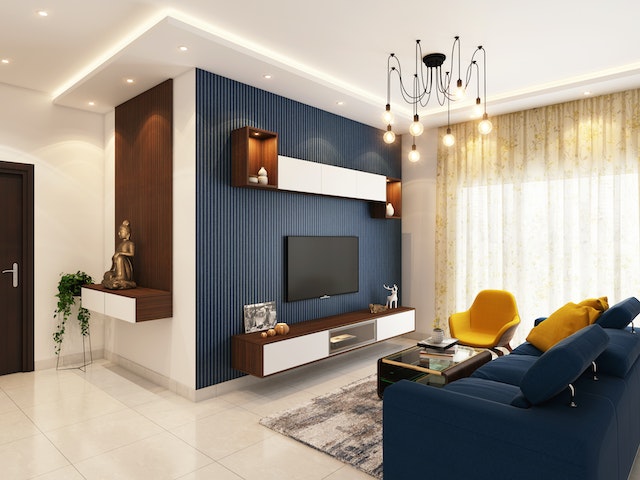 Surrounding Scenery
Landscaping features around your outdoor space can have a significant impact on the overall experience. They can enhance the aesthetic appeal, add privacy to the space, and make everything feel more lively. There are plenty of cool landscaping ideas that you can use to highlight the outdoor living space, such as unique pathways of stone or gravel, lattices with climbing plants intertwined, a garden that borders the area, or shrubbery/trees to block the view from neighbors. All of these features can enhance the outdoor living space, turning it into a backyard paradise where you can escape from everyday life and relax with the people you love.
Unique Features to Encourage Connection
A home is a place where we can enjoy the company of family and friends. You can help foster more connections and better relationships with unique features for your outdoor living space. If your family loves movie night, then a wall-mounted television could be perfect for the spot. Do you love to make s'mores? Add a fireplace for everyone to sit around and enjoy each other's company. If you love to compete with others, you could have a game table or incorporate a yard game arena next to the patio. Does your family love pizza? Install a brick oven so you can enjoy homemade pizza night whenever you want, or invite guests over to take part in the festivities. These features can make the space your own and stamp it with your signature style.
Design it For You
If you love to host, you may be tempted to consider what other people may want in the space over your interests. While it is okay to bring that into the planning phase, make sure that you are designing your outdoor living space for yourself first. You will be the one spending the most time in it, so it should be a spot that works for you and the other residents in the house first and foremost. Then, once you have crafted a plan that you know you will enjoy, you can think about how to cater the space for hosting opportunities.