A living room is the center of most homes. It's where families spend time together, entertain guests and relax. So it's important to make sure your living room reflects your personality and lifestyle.
Here are some of the best living room ideas for your home:
– A well-lit space with large windows that let in plenty of natural light will make you feel more relaxed and happy.
– Colour is one of the easiest ways to change a mood in a room, so experiment with different shades to see what works for you.
– If you want to create a cosy atmosphere, opt for darker colours on the walls, furniture and accessories.
– Avoid overlooking the need for enough chairs in your living room. Chairs are often an overlooked element but they can be a game-changer when it comes to how many people can fit in the room.
Purpose of a Living Room
The living room is a place for family and friends to come together. This is where the TV, sofa, and chairs are located. The living room should be a space that is welcoming and comfortable. It should feel like home!
Living rooms can be decorated in many different ways depending on the person's style and preference. Some people prefer to have an open layout with minimal furniture while others prefer to have a lot of furniture arranged in a more formal way.
Different Types of Living Room
There are many types of living rooms and the type you have largely depends on your personal needs.
Some people might need a room that is more formal, while others might need a space that is more informal. It all depends on what you want to do in the room.
Do you want to read a book or watch TV? Do you have kids or pets? These are all factors in determining the type of living room that will work best for you.
How Much Living Room Space Do I Need?
It is not easy to answer the question of how much living room space do I need. This is because there are many factors that will determine how much space you need.
Living room size is determined by the number of people in the household, the furniture, and whether or not you have a TV.
Living Room Layouts and Fitting Furniture in Your Space
The living room is the most important room in a house because it is where people spend most of their time. It is also the first space that guests see when they come to visit. So it's important to make sure that the living room has enough space, and that there are no common mistakes in how furniture is arranged.
Some people make the mistake of arranging their furniture against walls, leaving a lot of empty space in the middle of the room. This may seem like a good idea at first, but it can be difficult to move around or even vacuum this area.
Another common mistake is putting too many pieces of furniture in one small space – so there are no open areas for people to walk around or gather together. With such a fast paced world that we live in today, it can be difficult for people to find the time to enjoy themselves. They're too busy working and running errands, or simply just needlessly worrying about how they look. Take a few moments for yourself. Don't forget about yourself and how important you are.
Living Room Color Schemes and Ideas for Decorating the Walls
A living room is a space where you can express your personal style and personality. It's a place where you can relax and spend time with your family or friends.
We all know that the color of the walls in a room has an impact on the mood of that space. But what colors work best for small spaces? And how do we combine them to create our own unique color scheme?
What Do You Put on the Walls?
If you are renting, the landlord may not allow you to paint the walls. But if you are a homeowner, then it is your decision to make. You can either put up a fresh coat of paint or add some pictures on the walls.
Painting your walls will not only make them look more beautiful but also create an atmosphere that makes it feel like home.
Best Living Room Furniture Sets Under $500
In this article, we have compiled a list of the best living room furniture sets that are available on the market and cost less than $500.
The living room is the heart of your home. It is where you spend most of your time with family members. It is also where you entertain guests and host parties. A beautiful living room set can make all the difference in your home decor!
The first thing to consider when looking for a new living room furniture set is what style you want to achieve. Do you want it to be contemporary, modern, traditional? The next step would be to decide on a color scheme – do you want it to be black, brown or white? Once you have made these decisions, it will be much easier for you to find a set that matches.
Living Room Design Ideas That Match Your Personality
A living room is a space for relaxation, entertainment, and gathering. It is one of the most important rooms in a home. A living room needs to be designed to suit your personality and lifestyle.
The design of the living room should reflect your personality. If you are a person who loves to spend time with family and friends, then it should be designed as an open space where everyone can come together to enjoy themselves. If you are an introvert or someone who likes their privacy, then the design should be more closed off and private so that it doesn't feel like everyone can just walk in on you at any time.
Living rooms are typically designed with furniture that matches the style of the rest of house, but there are many different types of styles that can be incorporated into this space. For example, many contemporary living rooms often include a minimalist style and may consist of only a sofa and an end table instead of traditional chairs.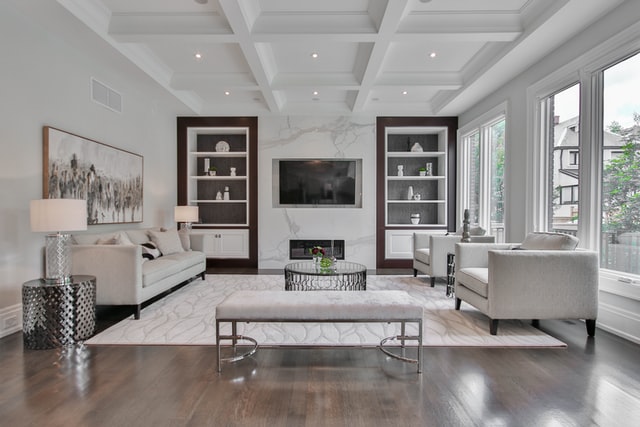 Decorate the Living Room With a Budget Mindset
There are many ways to decorate your living room with a budget mindset. You can find decorating ideas by looking at what other people have done, or you could use Pinterest.
One way to save money is to make some of your own decorations. You can use things you already have around the house, like old books, frames, and vases.
Decorate a Small Living Room With Style
When it comes to decorating a small living room, the key is to create an inviting space. Here are some simple ways to do that.
1. Maximize your space:
If you have a small living room, you can maximize the space by using furniture that has multiple uses. For instance, if you have a coffee table with drawers, use it as a storage unit for your living room items and also as an extra surface for your guests to put their drinks on.
2. Use mirrors:
Mirrors are great for making a small living room look like it has more space than it actually does. Place them strategically around the room to reflect light and make the place feel more spacious.
3. Keep clutter at bay:
Clutter has the ability to make any space seem smaller, no matter how large it actually is.
5 Steps to Transforming Your Living Room into a Cozy Space
Step 1: Add a rug.
Add a rug to your living room for a cozy and inviting look.
– Rugs can add warmth and comfort to the space.
– They can also provide an area for kids to play on the floor.
– Pick a style that suits your home's decor and personality.
Step 2: Go for a color scheme.
We should use colors in the living room to create a sense of comfort and warmth.
We should use colors in the living room to create a sense of comfort and warmth. The colors we choose for the living room should be warm, inviting, and calming. We can use color schemes such as orange and green or blue and yellow.
Step 3: Decorate with plants.
A living room is the most important room in a house. It is the place where you spend your time with family and friends. Decorating your living room with plants can help make it more inviting, relaxing and comfortable.
1) Use plants to fill up empty spaces on the walls or shelves
2) Place a small plant on a coffee table or an end table for decoration
3) Put potted plants on window sills, balconies or patios
4) Use ivy to cover large windows or walls for an elegant look
5) Add succulents to indoor planters for an easy-to-care-for plant
Step 4: Add an accent chair.
A chair is a piece of furniture for one person to sit on. It can be used in the living room, bedroom or any other place where you might want to sit down.
They are typically made from wood or metal and come in many different styles and colors. You can also find chairs with cushions, armrests, and backs that recline.
Some people like to use accent chairs as a decorative piece in their home while others prefer them because they are more comfortable than a normal chair.
Step 5: Add some art to make it homey.
Add some art to make it homey. You can hang a painting or a mirror on the wall, or you could put up a shelf with books and plants on it. If you don't want to spend any money, there are plenty of other things you can do. For example, you could paint the walls with nice color and add some decor that you already have lying around the house.
Now I am adding some FAQ below for better understanding:
How can I decorate a living room to make it more inviting?
There are a number of ways to decorate a living room to make it more inviting. You can add different pieces of furniture, such as a sofa or armchair, that can give the space more character. You can also add decorative items such as plants and pictures to make the space feel warmer and more homely.
You could also change the lighting in the room. Lighting is often an overlooked aspect of decorating, but it can have a big impact on how your living room feels. For example, you could use lamps instead of overhead lights for more intimate lighting which will make your living room feel cosier and less stark.
When should I start thinking about furnishing my living room?
The best time to start thinking about furnishing your living room is when you move into a new place.
You should start by choosing the style of furniture that you want for your living room. You can choose from contemporary, modern, traditional or rustic.
You should also consider the size of your sofa and think about what would go in the rest of the space in your living room.



What should I do if I don't have enough space for a sofa and coffee table?
The answer to this question is not as straightforward as it seems. The first thing you need to do is measure the space you have available and then decide what size furniture you can fit into that space.
Some people might want a smaller sofa if they don't have enough room for a bigger one, while others might want a coffee table that doesn't take up too much floor space. It all depends on your needs and preferences.
What is the best way to make a living room more functional?
One of the best ways to make a living room more functional is by installing a TV. This allows people to have an entertainment space in their living room that they can enjoy with family and friends.
Benefits of having a TV in the living room and some of the best ways to optimize it for your needs.
What are some spaces that are commonly found in living rooms?
A living room is typically a space that can be found in most homes. It is a place where people spend time with their family and friends.
A living room has many different features and pieces of furniture, such as couches, tables, chairs and plants. There are also decorations on the walls like paintings, photos or mirrors.
The most common features of a living room are the TV and fireplace.
There are many spaces that can be found in a living room, such as shelves for books or other items and lamps for light.
What is the most important furniture to have in a living room?
The most important piece of furniture to have in a living room is a couch. A couch is the main piece of furniture in the living room. It's where you go to relax, watch TV, or read a book.
A couch can be a great place for guests to sit when they come over. It can also be used as an extra bed for unexpected guests. Plus, it's usually comfortable and easy to clean!
What are some creative ideas for living room decorating?
Some creative ideas for living room decorating are to paint the walls a different color, put up art on the walls, get new furniture, and change the lighting.



What are the best colors for a living room?
This is a question that most people would want to ask an interior designer. But what if the person asking the question doesn't have access to one? With the help of AI, people can get a personalized answer for their home decorating questions. By answering a few simple questions, AI will provide them with an answer in less than 2 minutes.
The best colors for a living room depend on what you want out of it. If you are looking for something calming and soothing, then light blue is your best bet. If you are looking for something bright and lively, then yellow is your best bet. To find out more about this topic, please go here.
How many types of lighting is optimal in a living room?
Lighting is one of the most important aspects of designing a living room. It can make or break the room depending on how it is used. But how many types of lighting are optimal in a living room?
There are different types of lighting that can be used in a living room. They include natural light, ambient light, task lighting and decorative lights. The type and amount of light required will depend on the size and shape of the space, as well as personal preference.
What is the difference between a living room and a family room?
A living room is a formal space, while a family room is informal. A living room can be used for the purpose of entertaining guests and hosting events, while a family room is more often used for watching television, reading or doing homework.
The living room is also the place where we might have our piano or other musical instruments. Family rooms are generally smaller than living rooms and they don't need to be as formal.